A1 crash: Drunk former bomb disposal expert jailed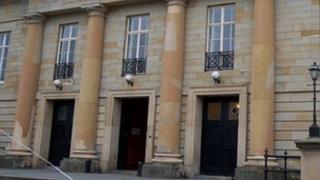 A former bomb disposal expert with post-traumatic stress disorder has been jailed for crashing into a woman's car and killing her.
Craig Bourne, 31, was driving at 100mph on the A1 near Durham while drunk when he hit Jacqueline Dowdall's Fiat Panda.
Miss Dowdall, 44, was driving from Coxhoe, County Durham to work at Asda, Washington on 5 April when she was hit.
Bourne was sentenced to seven years and four months for causing death by dangerous driving and drink driving.
There was no sign of braking or swerving and the impact pushed her from about 42mph to almost 90mph and made the car somersault, Durham Crown Court heard.
'Tortured soul'
Bourne had been awake for 22 hours, had taken anti-depressants and was found to be still almost twice over the drink drive limit two hours after the crash.
The court heard him described as a "tortured soul" due to military service in Iraq and was told he was "immensely regretful, remorseful and sorry for what happened".
The prosecution said there was a "real likelihood" he had fallen asleep at the wheel in the moments before the crash.
The victim's sister, Angela Shipley, said: "I don't think anyone can imagine how this feels... a life snuffed out and a beautiful person taken away from us."
Bourne pleaded guilty to both offences and was banned from driving for five years.