Bamburgh Beach World War Two pillbox to be recorded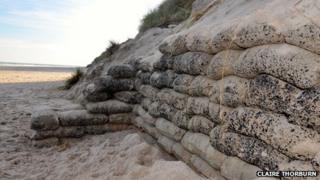 A World War Two structure unearthed on the Northumberland coast by last week's tidal surge will be added to a historical record, experts hope.
The pillbox was found on a stretch of Bamburgh beach after the stormy weather that battered the east coast.
It is made of sandbags filled with concrete.
The Northumberland Coast Area of Outstanding Natural Beauty Partnership hopes to add it to the local Historic Environment Record.
Jessica Turner from the partnership said there was already a "comprehensive survey" of WW2 structures along the coast.