Sopefoluwa Peters missing: Body found in River Wear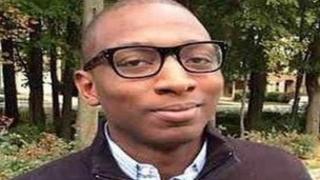 Police searching for a missing university student have recovered a body from the River Wear in Durham.
Sopefoluwa Peters, 20, has been missing since 23:30 GMT on 29 October when he was last seen outside Klute bar near Elvet Bridge, Durham Police said.
A member of the public alerted police to a body in the river on Sunday.
Police said the body, which was found between Framwellgate and Prebends bridges, has not been identified but Mr Peters' family have been informed.
Divers had been searching the River Wear for the American student.
Relatives have travelled from North Virginia in the United States to help with the search.
Mr Peters is a second-year economics student at Hatfield College at Durham University.