County Durham care homes: Protest over closure threat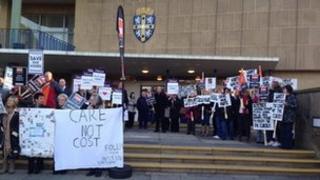 A demonstration is taking place in County Durham over plans which could see the closure of five local authority-run care homes.
Durham County Council is consulting over their future as part of moves to save £222m by 2017.
About 50 permanent residents live in the homes, with union bosses claiming 170 jobs will be lost if they close.
Campaigners have gathered outside one of the homes in Stanhope, near Consett.
A three month-consultation about the homes, which also include those in Belmont, Ferryhill, Peterlee and Chester-le-Street, is under way.
'Circle of love'
It includes three options - keeping and repairing the homes, closing them and moving residents to independent homes or seeing if other organisations might take over their management.
Michelle Robson, whose father-in-law Donald is a resident of Newton House in Stanhope, said: "We want to bring this issue to the attention of the wider community in Weardale. I think a lot of people are behind what we're doing already.
"My idea was to hold hands around the building and form a circle of love and protection around our beloved Newtown House, because that's what this place is."
Durham County Council stressed decisions about the future of its residential care services would not be taken until after the consultation had ended in the new year.