Newcastle United's Hatem Ben Arfa banned from driving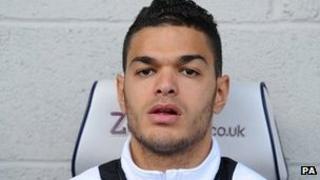 A Newcastle United player has been banned from driving after he failed to pass on information about who was driving his speeding car.
Hatem Ben Arfa's vehicle was twice found to be travelling over the limit in Gosforth in November 2012.
As its registered keeper, the French international was notified by police but did not respond.
Appearing at South East Northumberland Magistrates' Court, the 26-year-old pleaded guilty to two offences.
Magistrates heard he failed to respond at all over one of the incidents and waited two months before responding to police on the other occasion.
'Genuine apology'
Neil Fodor, prosecuting, said: "Whatever situation, whatever procedures Mr Ben Arfa had in place for being abroad and where English was not his first language, it was his responsibility that those procedures worked and clearly on these occasions they did not."
Michelle Brown, defending, said Ben Arfa had been going back and forth between the UK and France during the relevant period.
She said: "Being away from the home address, the system where the letters are sent on did not go through the necessary chain with the quickness that was required.
"I hope the court accepts his genuine apology."
As well as the six-month driving ban, he was given 12 points on his licence and fined a total of £2,680.