Chris Brown inquest: Prison officer 'issued Moat warning'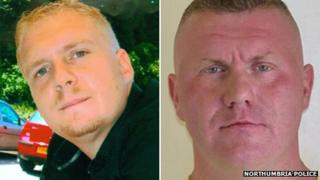 A prison officer attempted to warn his superiors of the risk posed by gunman Raoul Moat as he was released from jail, an inquest has heard.
Moat killed Chris Brown, the partner of his ex-girlfriend Samantha Stobbart, after leaving Durham Prison.
A report detailing his threats to "seriously assault" Miss Stobbart was passed to superiors at the prison, the hearing into Mr Brown's death was told.
Part of the form indicating it required "action immediately" was not ticked.
The prison officer, Martin Phillips, told coroner Terence Carney he did not understand what the section meant.
Questions not asked
Newcastle Crown Court heard how Mr Phillips handed in the "security information report" following a conversation with a trusted inmate.
"I was advised that he has plans to seriously assault his partner and whatever the outcome he would not be returning to prison," he wrote.
The report, which also contained Miss Stobbart's address, was passed around staff three times, the inquest heard.
It was eventually classified as needing action within 72 hours.
Moat killed Mr Brown and injured Miss Stobbart two days after his release in Birtley, Gateshead.
He went on to shoot and blind PC David Rathband before shooting himself after a stand-off with police in Rothbury, Northumberland, a week later.
The inquest continues.