Thousands of fish released into River Tyne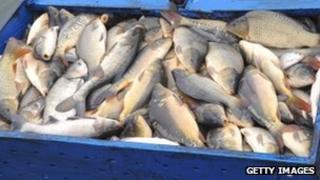 Thousands of fish are to be released into two North East rivers to boost stock levels.
The Environment Agency will release 7,000 fish including chub and carp into the Team at Gateshead and into the Tyne at Prudhoe on Monday and Tuesday.
Five stillwater fisheries in the region will also be stocked with 12,000 fish to boost angling, the agency said.
Dwindling fish breeding and survival rates in recent years have been blamed on poor quality water.
The Environment Agency releases fish into waterways every year.
The agency's fisheries officers, Paul Frear, said: "Restoration and the creation of new fisheries for all people to enjoy, is a very important aspect to our work."