HMP Northumberland taken over by private firm Sodexo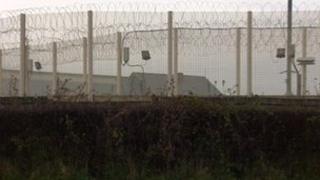 A 40-year-old prison with more than 1,300 inmates has been taken over by a private firm.
HMP Northumberland, in Acklington, has been taken over from the government by Sodexo Justices Service.
The firm has a 15-year contract and claimed it would save the taxpayer £129m a year by cutting 200 jobs.
But the Prison Officers' Association (POA) said officers posts could result in "escapes and riots".
HMP Northumberland was formed by the merger of Castington and Acklington jails in 2011, but the prison building was built 40 years ago.
It is a Category C jail for inmates - including vulnerable sex offenders - who cannot be trusted in open conditions but who are not thought to be capable of trying to escape.
Joe Simpson, spokesman for the POA, said he believed reducing staff by 200 to 380 could lead to attempted break-outs.
He said: "We're talking about prison staff who are going to go away from the supervision of prisoners. There could be a riot and someone escaping - that's the worst case scenario."
Barbara King, who lives in nearby Acklingham village, said she was concerned about security at the jail.
She said: "How are they now going to control these prisoners - if they are going to reduce the staff - who is going to supervise the prisoners?
"We've got an elderly population in the village - it doesn't really bear thinking about the repercussions of reducing staffing levels."
Sodexo Justice Services said it had run prisons for more than 20 years in the UK.
A company spokesman said reducing staff would "in no way compromise security" or the efficient running of the prison.
He said the firm was confident of running a secure prison with a regime that "promotes rehabilitation".
There is more on the story on Sunday Politics in the North East And Cumbria on BBC1 at 11:00 GMT.