Newcastle Airport awarded £2 in payoff court appeal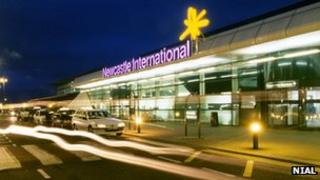 Newcastle International Airport (NIAL) has been awarded £2 in damages at the end of a case against a law firm.
The airport previously lost a court battle over claims two directors were allowed to negotiate £8m in bonuses.
In an appeal, the company alleged that the solicitors Eversheds failed in its duty to them.
The Court of Appeal ruled the firm had failed to explain contract changes, but awarded "nominal" compensation after questioning if NIAL had been damaged.
A spokesman for NIAL said it had measures in place designed to "safeguard itself against exposure to legal costs related to this litigation".
An Eversheds spokeswoman said the judges had ruled in the firm's favour on most issues in the case.
The ruling stated that the solicitors should have provided a memorandum explaining a summary of changes to the contracts.
'User-friendly language'
The airport had sued the law firm in relation to contracts entered into with former chief executive John Parkin and former finance director Lars Friis in 2006.
Mr Parkin and Mr Friis, who has since died, were paid £8m between them after securing an airport refinancing deal.
Eversheds said lawyers acted in "good faith on the basis of instructions".
In October 2012, a High Court judge ruled against NIAL and dismissed a claim for damages for alleged negligence against the solicitors.
At a hearing in June, airport bosses asked three appeal judges to overturn that ruling.
Deciding that request, the Court of Appeal judges ruled in the airport's favour on one point relating to the summary memorandum.
They said "part of Eversheds' duty" had been to ensure finished drafts given to the airport's chairwoman were accompanied by a "memorandum explaining, in user-friendly language", changes to original contracts.
The ruling in 2012 had said that even if that had led to the chairwoman "picking up the position", contracts would still have been signed containing the same bonus entitlements.
Considering that ruling, appeal judges said the original judge had not been wrong to reach that conclusion.
The NIAL spokesman said a new management team were now in place at the company.