Woman 'stabbed daughter-in-law' Tina Casey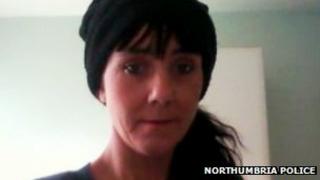 A woman stabbed her daughter-in-law to death after a row over money and accusations she was a bad grandmother, a court has heard.
Heather Emmonds, 58, from Blyth Street, Seaton Delaval, Northumberland, admits stabbing Tina Casey, 42, but denies murder owing to diminished responsibility and loss of control.
Miss Casey's body was found at her home in Holywell in February.
She had threatened to take her young son and move away, the court heard.
Ms Emmonds said she had "had enough" after Ms Casey called her a "bad grandmother" during a row, Newcastle Crown Court heard.
'Me, me, me'
She said Ms Casey threatened to move back to the Isle of Man, where she had previously lived.
The argument continued over money, which Ms Casey wanted to borrow to settle her debts, the court heard.
Ms Emmonds told the court: "She started getting agitated, saying I was not thinking about her young grandson and I had done nothing to help her, when I had done an awful lot to help her over the years.
"She said I was a bad grandmother because I wouldn't help her and my grandson."
The court heard Ms Emmonds picked up a knife and stabbed her son's former partner in the neck and stomach as she lay on the settee in her home.
She continued: "I was fed up, I had had enough. I just thought it is all 'me, me, me'.
"I don't remember picking the knife up. She was talking but I don't know what she was saying. "I stabbed her."
Earlier, Ms Emmonds said Ms Casey was going to claim the family had been wiped out in a car crash.
"She was going to change my grandson's hair colour, change his name by deed poll and tell him we had all been killed in car accident and he had no grandparents or daddy," Emmonds said.
The trial continues.