Kielder osprey spotted in West Africa for 'first time'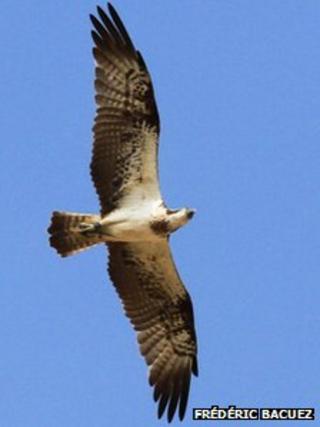 An osprey which fledged from its Northumberland nest has been seen for the "first time ever" in West Africa, the Forestry Commission said.
The bird of prey, which left its nest in Kielder Forest in 2012, was spotted in the skies of the Todde area of Northern Senegal.
It is the first time a Kielder bird has been seen at a migration destination.
A Forestry Commission spokesman said it was "truly amazing" news for everyone involved in protecting the birds.
A photo taken of the sighting by ornithologist Frederic Bacuez, in Senegal, identified the bird as Blue 1H.
The birds of prey were reintroduced to Kielder Water and Forest Park four years ago, after an absence of more than 200 years.
This year four chicks successfully fledged from the park, a record number since 2009, the Forestry Commission said.