Tina Casey 'murdered over grandson access fear'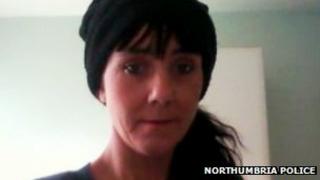 A grandmother killed her daughter-in-law because she feared losing contact with her young grandson, a court has heard.
Heather Emmonds, 58, from Blyth Street, Seaton Delaval is accused of stabbing 42-year-old Tina Casey to death after attempting to poison her.
Miss Casey's body was found at her home in Holywell in February.
The defendant denies murder but admits killing owing to diminished responsibility and loss of control.
Emmonds was found collapsed in her car after crashing it at a roundabout the following day, having taken an overdose of sleeping tablets, Newcastle Crown Court heard.
'Devious and cunning'
Police found 10 hand-written notes in her car confessing to the killing.
The jury heard one addressed to her grandson said: "Please don't hate me for what I have done. I really thought it was the best for you. I know it won't look like it."
In another letter addressed to the police she wrote: "I didn't intend to kill Tina Casey, it was a moment of madness and impulse.
"The knife was mine but I lent it to Tina Casey," the note said. "There was no preconceived plan. It just happened.
"I have never harmed anyone in my life. I am ashamed of my actions."
The prosecution said the note was a "very devious and cunning attempt to explain away" how her knife had been used.
The court was told Emmonds "went quite deliberately armed with a knife knowing full well what she was doing".
The jury heard Miss Casey had previously lived on the Isle of Man and planned to return there with the defendant's young grandson.
The prosecution said Heather Emmonds "could not face" this prospect.
In the week before her death, Ms Casey had made a statement to police reporting she had been poisoned.
The court heard Emmonds later confessed to police she had crushed up strong sleeping tablets in the food she had made to render Ms Casey ill, so she would come to rely on her.
The trial continues.