North East Combined Authority appoints chair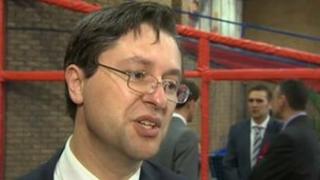 A Combined Authority formed by North East councils to give the region a "stronger voice", has appointed a council leader to head the group.
The seven local authorities agreed to the move in June.
Now, Durham Council leader Simon Henig will lead the North East Leadership Board in its transition from a shadow to a statutory body.
Cllr Henig says it is "extremely important" that the region works together to "benefit" the economy.
The government has now launched the formal consultation on the proposal to create a Combined Authority from April 2014, which is hoped will gain "more powers and funding" for the area.
"Right for the region"
Mr Henig said: "This is a very important opportunity and I do not underestimate the work to be done.
"As demonstrated effectively elsewhere, it is entirely appropriate that decisions about what is right for a region are made by the people who know it best and I am therefore pleased to accept the role as chair."
A Combined Authority can be set up when two or more local authorities want to work more closely to support economic growth in areas such as skills, transport and investment.
Mr Henig was appointed chair of the North East Leadership Board by the group of leaders and elected mayor representing the local authorities.
North East LEP is made up of seven councils - Durham County, Gateshead, Newcastle City, North Tyneside, Northumberland County, South Tyneside and Sunderland City.
Greater Manchester was the first in the country to develop a statutory Combined Authority in April 2011.