Car crashes into Kingsway Nursing Home in Langley Park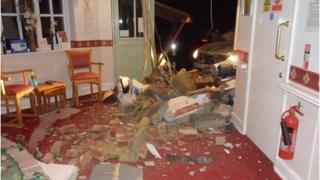 A car has smashed into the front of a care home, narrowly missing a resident's bedroom.
No residents were hurt but the manager of Kingsway Nursing Home in Langley Park, near Durham City, said it was lucky the crash was not fatal.
Police said a 26-year-old man from Stanley was arrested on suspicion of motoring and drugs offences after the crash early on Tuesday.
Structural damage was caused to the entrance and porch area.
Care home manager Jude Goode said: "There is a bedroom right next to where the car came in. We've been so very lucky because this could have been utterly fatal.
"It's our main entrance so we need to have it patched up pretty quickly. We are having to use an emergency exit now, but it's not ideal.
"It's just in time for winter and coming up to Christmas. It's so sad and such a shame."
None of the residents had to be moved.
Len Merton, CEO of Advinia Healthcare, which runs the home, added: "The staff we had on duty at the time responded terrifically, didn't panic and made sure everyone was OK and settled.
"We have had a structural engineer out to examine the building and while it will be OK, a lot of work will be needed.
"We've changed our entry point to the side of the building and we are confident this will not cause too much inconvenience."
A Durham Police spokesman said the arrested man was being treated in hospital for minor injuries.
A quantity of drugs, believed to be cocaine, was recovered from the vehicle - a Vauxhall Zafira.