David Robinson jailed for killing Kathleen Heslop in Prudhoe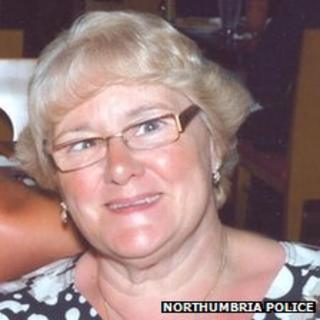 A driver who killed a woman and her dog as they crossed a road in Northumberland has been jailed for five years.
David Robinson, 26, from Woodhead Road, Prudhoe, pleaded guilty to causing death by dangerous driving at Newcastle Crown Court.
Kathleen Heslop, 64, was walking her dog Trudy near their home when they were hit by the car in Prudhoe.
Robinson failed to stop after hitting the pair on the B6395 on 13 July.
He also admitted causing death whilst uninsured, dangerous driving, failing to stop and failing to report an accident.
'Justice done'
He was sentenced to five years at Newcastle Crown Court today.
After the hearing, a Northumbria Police spokesman said: "This was a horrendous case that saw Kathleen Heslop left dead in the road and a family now without a mother and grandmother.
"I'm satisfied with the conviction and sentence and that Robinson will face the consequences of his reckless driving and Kathleen's family have been able to see justice be done, although, this will never replace their loss.
"Robinson was not only driving in a reckless manner, he then left the scene and did not report the collision and I'd like this to act as a warning to anyone who thinks this is acceptable that we will carry out extensive enquiries to catch them.
"Our priority is making our roads safer for everyone and we will endeavour to pursue anyone who is driving dangerously and recklessly."