River Tyne 'best in England' for salmon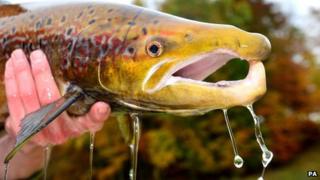 The River Tyne is the best river in England for salmon numbers, according to the Environment Agency.
The agency said it was "largely" due to work at the Kielder salmon hatchery in Northumberland, the largest of its kind in England and Wales.
When opened in 2008 the centre aimed to raise 160,000 salmon a year, but it now manages close to one million.
Fifty years ago no salmon at all were caught by rod or line on the Tyne because the water quality was so poor.
'Very important'
The hatchery was established to compensate for the loss of habitat after the giant Kielder Reservoir was opened in 1982.
Hatchery manager Richard Bond, said: "It's a very important part of the river for spawning and for the young salmon.
"We are the biggest salmon conservation hatchery in England.
"We get between 30,000 and 50,000 salmon and sea trout in the river and of that I would guess 15,000-20,000 is salmon.
"It's now the best river for salmon in England and Wales and we estimate there are 5,000 rod catches each year.
"By comparison, in 1960 no salmon were caught because the water quality was so bad back then.
"But there has been a huge improvement in the water quality over time."