Durham's Lumiere light festival attended by thousands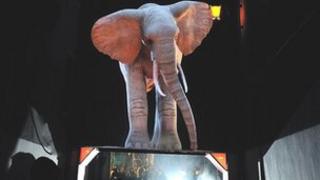 More than 60,000 people have visited the Lumiere festival of light in Durham since it opened on Thursday, organisers said.
The event, which concludes on Sunday evening, features 25 stunning light installations beamed onto buildings, including the city's Norman cathedral.
Works include a huge 3D elephant and several magnified pages from the Lindisfarne Gospels.
High winds meant some of the works could not be set up safely.
The event attracted a total of 150,000 visitors when it was last held, in 2011.
Organisers said problems with overcrowding, which marred that event, have been addressed after consultations with Durham Police and Durham County Council.
'More relaxed'
Nicky Webb, co-director of festival producers Artichoke, said: "We had a great opening night, with over 30,000 people accessing the central area of the festival and we estimate even more attended on Friday.
"Even though we have had a similar number of people at the festival as in 2011, I think everyone would agree that the experience was much more relaxed with the crowd management systems we have implemented making it easier for people to enjoy the artworks that can be found throughout the city."
A giant animated replica of the sun, exactly 100 million times smaller than the real thing, could not be inflated because of high winds, but organisers hope conditions will improve by Sunday.
A Durham County Council spokesman added: "It was an absolute joy to see the smiles on peoples' faces and to hear the laughter of families delighting at the installations and marvelling at the wonders of the lights.
"Events like this have a vital role to play in boosting the local economy and I was particularly pleased to see how many businesses stayed open later to make the most of the passing trade."