Twelve caravans destroyed in Northumberland storage unit blaze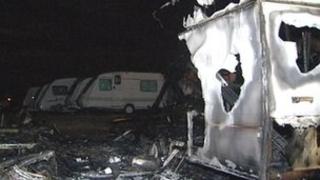 Twelve caravans have been destroyed in a fire at a storage facility in Northumberland.
Crews said some liquid petroleum gas cylinders exploded when the blaze broke out at Charlton's Caravan Storage near Lynemouth.
A team of 15 firefighters brought the blaze under control and the cause is now being investigated by police and the fire service.
No-one was injured in the incident, firefighters confirmed.