Donald Duckling 'unsafe' ship detained on Tyne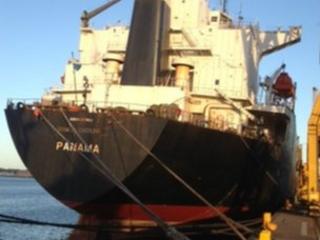 A vessel named Donald Duckling has been detained on the Tyne amid safety concerns and claims its crew ran out of food.
The 16-year-old cargo Panama-registered ship cannot leave until it has undergone urgent repairs, the Maritime and Coastguard Agency (MCA) said.
The 18-strong crew said they had been forced to fish off the side of the boat when food ran out, said officials.
The ship's owner, Taiwan-based the TMT Group could not be reached for comment.
The vessel arrived earlier this week at the Port of Tyne to load a cargo of scrap metal bound for east Asia.
'Appalling state'
The International Transport Workers' Federation inspector Tommy Malloy said the crew members were Romanian and Filipino.
Crew members told Mr Malloy they had to cook their fish on the decks because the galley was out of order.
He said: "It's pretty bad - in terms of the crew their recreational facilities are non-existent - what has effectively been their front room for the last 10 months is in an appalling state of repair.
"They have very little food left and their refrigeration has broken down.
"At one point they ran out of food and had to catch fish off the side of the ship and had no cooking facilities."
He also said the ship was detained for 121 days in Gibraltar earlier this year when authorities identified 21 safety concerns.
A MCA spokesman said: "Following an inspection, we have issued a detention notice on the vessel Donald Duckling.
"The detention was served for a number of reasons, including mechanical and safety issues.
"This notice, which prevents the vessel from sailing, will remain in place until the necessary improvements are carried out."