Marathon of the North halted over Sunderland city centre developments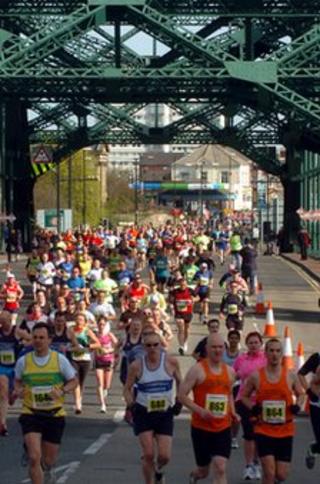 Race organisers have confirmed the Marathon of the North will not be staged next year owing to development works in Sunderland city centre.
Instead, a revised programme for the Run Sunderland Festival on Sunday 4 May will see the staging of a half marathon and 10k event.
Last year, thousands of runners in the full and half marathons were told the course they followed was 264m short.
Marshals had been standing in the wrong positions.
Only the winner of the marathon completed the full distance.
Starting and finishing at the Stadium of Light, next year's Sunderland City Half Marathon will follow a new route that will be mainly in the city centre and along the coastal road.
It will use much of the Sunderland City 10k route.
Organiser DS Media and Events said it had agreed with partners Sunderland City Council and Sunderland Live to suspend the Marathon of the North for a year.