Stanley Elite Buildings gutted in blaze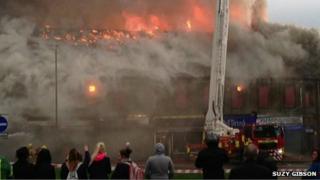 A fire that broke out in a takeaway restaurant has virtually destroyed an Edwardian building in County Durham.
More than 30 firefighters tackled the blaze at Wong's Chop Suey House in the Elite Buildings in Stanley, on Monday.
Other businesses in the former dance hall and pupils and staff from a nearby school were evacuated as a precaution.
No-one was hurt in the incident, but a fire service spokesman said the building would have to be assessed as parts were in an "unstable condition".
St Joseph's Primary School is remaining closed until further notice.