Cullercoats RNLI honours fundraisers with gold badge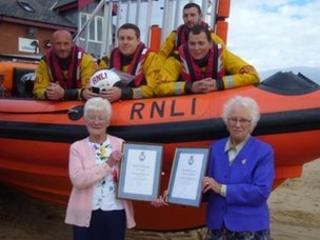 Two women from North Tyneside have been honoured for spending half a century raising more than £50,000 for the RNLI.
Jen Taylor, 90, and Kathy Blackman, 80, were honoured with RNLI gold badges for their dedication to the charity.
The women were presented with their certificates at Cullercoats boathouse after spending 50 years raising "valuable funds".
Cullercoats RNLI chairman David Wakenshaw said it was "due recognition" for their "magnificent effort".
The pairs' fundraising efforts include New Year's Day raffles and collecting at Cullercoats Harbour Day dressed as fishwives.