Blyth offshore wind farm test site approved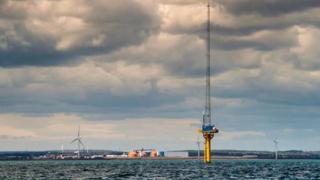 The UK's largest offshore facility for wind farm testing has received planning consent.
The National Renewable Energy Centre (Narec) will construct 15 turbines off the coast of Blyth, Northumberland.
The site would be used for testing future offshore wind technology cost-effectively in realistic environmental conditions before commercial production, Narec said.
Permission has also been granted for an onshore substation.
Narec chief executive Andrew Mill said the £350m, 99.9 MW site was an "important milestone" and the company was now talking to potential investment partners.
Shaun Nicholson, from the Marine Maritime Organisation, the public body which approved the site, said: "The Blyth project is the largest site we have approved for the testing of turbine devices.
"We consider economic benefits alongside any adverse impacts, such as on the environment and other users of the marine area."