Babies tested in Sunderland Royal Hospital TB alert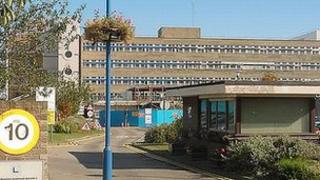 The parents of 41 babies treated in Sunderland Royal Hospital's neo-natal unit, have been told their children must be tested for tuberculosis (TB).
Medics said the move was precautionary and involved children who were at the unit between May and August.
The recall came after it emerged the children had come into contact with someone who had the illness during their time at hospital.
TB is spread by an airborne germ and leads to people coughing up blood.
A total of 92 babies were cared for on the ward, which treats premature babies and those born with illnesses, between May and August, but only 41 were identified as being at risk.
'Easily treatable'
A spokesman for City Hospitals of Sunderland NHS Foundation Trust, said: "TB is very difficult to catch and the risk of any of the babies having developed TB is extremely low.
"However, it is easily treatable with a course of antibiotics should that be necessary.
"We have set up dedicated clinics for the babies to be assessed and a helpline is available for any parents that may have concerns before that appointment takes place.
"The trust recognises and apologises for the anxiety and distress that this will have undoubtedly caused parents."
The helpline number, which is open between 0800 GMT and 2000 GMT daily, is 07810 637 810.