Sacriston property searched by bomb disposal team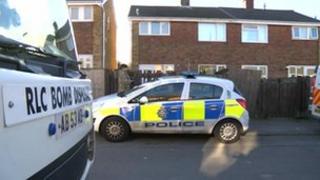 A bomb disposal team is searching a property in County Durham after a man was arrested following what police have described as a firearms incident.
Police were called to a property on Fulforth Way, Sacriston, on Sunday evening.
An initial search led to a request for assistance from the team from Catterick Garrison, North Yorkshire, "as a precautionary measure".
The 27-year-old man is being held on suspicion of making threats to kill.
A Durham Police spokesman said: "I would like to reassure the public that there is no need to be concerned.
"The incident has concluded and a suspect is currently under arrest.
"We would like to ask the local residents for their co-operation while the work continues and thank them for their patience."