Tynemouth RNLI family baby christened on lifeboat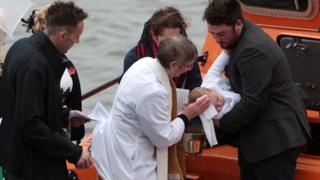 The fourth generation of a family of lifeboat volunteers from North Tyneside has been baptised on a rescue vessel.
Roman Bundy was christened on board the Spirit of Northumberland, with its upturned ship's bell used as a font.
Roman's grandfather has worked at the Tynemouth RNLI station for 40 years, his great-grandfather did so for 30 and his uncle is a current crew member.
The tradition of lifeboat christenings dates back more than 200 years, and is said to bring luck to the child.
Parents Laura and Paul Bundy attended the ceremony along with family, friends, and Tynemouth RNLI crew members.
Grandfather Kevin Mole said he hoped Roman would one day follow the family tradition, begun by his own father Douggie and continued by his son Bobby, by becoming a lifeboatman himself.