Gateshead field of remembrance opened at service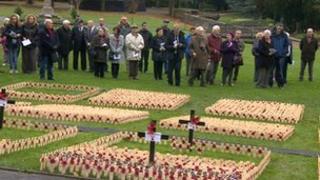 Thousands of wooden crosses carrying poppies and tributes to fallen service personnel have been planted in the North East's only field of remembrance.
About 10,000 crosses commemorating service men and women lost at home and abroad were on display at Gateshead's Saltwell Park.
A remembrance ceremony on Saturday was attended by loved ones, military chiefs and members of the public.
The park will stay open to the public in the run up to Remembrance Sunday.
It is the second year it has hosted the field of remembrance.
'Very proud'
The service was conducted by military chaplain Reverend James Breslin, chaplain to the Royal British Legion, Northumbria.
A two-minute silence was also observed at 11:00 GMT.
A special remembrance cross was dedicated by Anne Turner and Vicky Dunn, both from Gateshead, whose sons were killed in Afghanistan.
Mrs Turner, who campaigned for the field of remembrance to be created in the town, said: "I'm very honoured to once again dedicate a cross in memory of my son Mark and all those men and women whose lives were cut short in the line of duty.
"It is a very emotional, but a very proud day for us. We will never forget the sacrifice Mark and so many brave heroes like him have made."
Andrew Drake, area manager for the Royal British Legion in the North, said: "The field of remembrance is a fitting way of ensuring that the courage of all our fallen heroes lives on in our minds.
"Each cross planted at Saltwell Park will represent the public's heartfelt thanks for the sacrifices made by our brave service men and women.
"I hope people will visit the field and remember with pride those who have made the ultimate sacrifice."