Missing Durham student Sope Peters sparks police hunt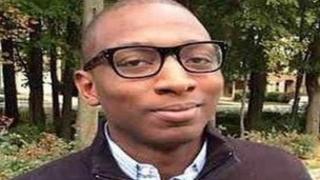 A search for a Durham University international student, who has been missing since Tuesday, is under way.
Sopefoluwa Peters, 20, was reported missing by a member of staff at the University after concerns were raised by fellow students.
Durham Police said he left his flat in Highgate at about 23:30 GMT on Tuesday and was last seen outside Klute bar near Elvet Bridge at about midnight.
He is described as black, 5' 7" tall, and has an American accent.
Sopefoluwa, who is usually known as Sope, was wearing a blue jumper over a black shirt and light green trousers.
His friends say his disappearance is completely out of character.
The second-year student, whose parents live in North Virginia in the USA, is studying economics at Hatfield College at the university.
Police are appealing for anyone with information to come forward.