A1 ambulance crash pedestrian named as Eric Shaw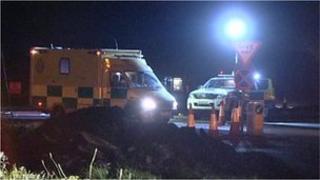 A pedestrian killed when he was struck by an ambulance in north Northumberland has been named by police.
Eric Shaw was hit by the vehicle on the southbound carriageway of the A1 on Tuesday evening.
The 70-year-old, from the Mablethorpe area of Lincolnshire, was pronounced dead at the scene near Haggerston.
At the time, the ambulance was making a routine transfer of a non-emergency out-patient and was not travelling with blue lights or sirens.
A Northumbria Police spokesman said: "There were a number of people of who stopped at the incident last night and tried to help and I want to thank them for their assistance.
"We know that Mr Shaw had travelled on the Arriva X15 bus from Alnwick to Berwick and got off at the Haggerston A1 stop.
"We want to speak to anyone who was on that bus and who saw anything that could help us with our enquiries."