Lynne Spalding: Service for US hospital stairwell death victim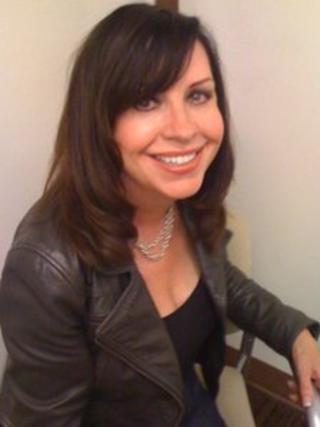 A memorial service has been held for a British woman whose body was found in the stairwell of a San Francisco hospital.
Lynne Spalding, 57, from Haswell, County Durham, was being treated at the city's General Hospital when she disappeared on 21 September.
Her body was found 17 days later in one of the hospital's exterior stairwells.
Ms Spalding's two children and twin brother were among 150 people at a service in San Francisco on Friday.
He family has criticised the slow progress of a police and hospital investigation into how she was able to remain missing for so long.
Officials have ruled out foul play, but have yet to confirm an exact cause of death.
'Foot-dragging investigation'
Family spokesman David Perry said: "Lynne was remembered in a celebration of her life at St Aidan's Episcopal Church in San Francisco. The ceremony was private.
"It was attended by family, friends and colleagues from California and Great Britain, including her two children and twin brother.
"Lynne's family wish to thank the warm and welcoming congregation of St Aidan's during this difficult time of personal grief."
Ms Spalding, who was being treated for a bladder infection at the hospital, moved to San Francisco several years ago.
She was mother to a 23-year-old daughter and a son, aged 19. She worked in the city's travel industry.
Ms Spalding was cremated in a private ceremony on 21 October.
Mr Perry added: "The family and friends of Lynne Spalding will not stand idly by for a foot-dragging investigation of weeks or months.
"Five weeks ago Lynne went missing from her room at San Francisco General. Five weeks ago the San Francisco Sheriff's Department was asked to search the premises for Lynne.
"Seventeen days later her body was discovered in a hospital stairwell, by accident. Those facts speak for themselves."
The San Francisco Police Department said investigations were continuing.
The UK Foreign Office said staff had offered support to Ms Spalding's family.