Men deny exploiting under-age girls in Middlesbrough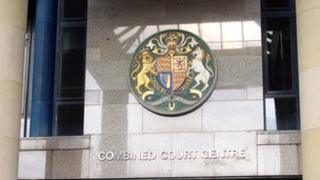 Three men and a teenager have appeared in court to deny charges of sexually exploiting under-age girls on Teesside.
Shakil Munir, 32, Junaid Butt, 18, Ibrar Mahmood, 18, all from Middlesbrough, and a 17-year-old who cannot be named, appeared at court.
The jury was told a fifth man had admitted five counts of sexual activity with a child.
Teesside Crown Court heard most of the girls involved were 14, but one was 13.
Some of the charges relate to a defendant asking and getting an underage girl to perform oral sex on him.
'Exploitative relationships'
Others involved touching girls sexually, while some charges related to sex with a girl under the age of consent.
The victims were groomed and shared by the defendants, the court was told.
Christopher Knox, prosecuting, said: "This case involves the exploitation of a group of young girls by a group of loosely connected young men.
"The young girls in almost all cases in some shape or form have been groomed by these young men and sometimes passed from one to another."
One girl was persuaded to perform oral sex and then she was told her boyfriend would be informed if she did not do it again on further occasions.
Mr Knox added: "This is not boyfriend-girlfriend, this is exploitation. Exploitative relationships in which you have grooming."
The jury was told a girl would be pressured after she had been befriended, then brought gradually into a sexual relationship.
Text and social network communication was a feature of the case.
'Arouse emotions'
Mr Knox said there were examples of two defendants taking a girl and her friend out for a drive.
While one man stayed in the car and pressured a girl to have sex, the other defendant would leave with his girl.
As the hearing began, Judge John Walford told the jury: "These are the sort of allegations which tend to arouse emotions - allegations of sexual misconduct towards children.
"Comparisons may be drawn with other cases where other, similar allegations have been made in other towns and cities in this country - cases which have given rise to public debate and discussion.
"For reasons which I hope are obvious, not least because you must decide the case on the evidence and only the evidence, it's important you disregard any views which you may have heard or found about what happened in other towns and cities involving different groups of people on different occasions in the past."
The trial continues.