Chloe Fowler and Tonibeth Purvis river deaths an accident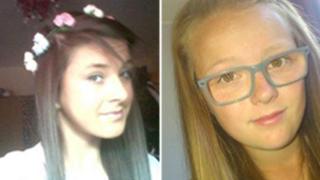 A coroner has praised a teenage girl's "valiant attempt" to save her drowning friend.
Tonibeth Purvis, 15, tried to help Chloe Fowler, 14, after she got into difficulty in the River Wear in Fatfield, Washington, on 23 July.
But both girls were swept away, despite the efforts of passers-by, and their bodies discovered 300ft (100m) away.
The coroner in Sunderland recorded a verdict that the two schoolgirls died as a result of an accident.
The inquest heard that, during the prolonged rescue attempt, various members of the public also tried in vain to save the girls.
These included an off-duty police officer who dived into the water and two local fishermen, as well as some of the teenagers' friends.
Dozens of emergency service workers also attended the scene, including specialist dive teams, the fire brigade, a helicopter and 40 police officers.
Coroner Derek Winter said: "These events were traumatic and remain so. They touched the families and the whole community.
"Chloe jumped into the water and got into difficulty. Then Tonibeth, in a valiant attempt to try and save her, also got into difficulty.
'Hazardous environment'
"Both were overwhelmed by the river and drowned despite the efforts of friends and the rescue services. I am so very sad about your loss."
Det Insp Mark Ord from Northumbria Police described the timeline of events and said both girls were found within 300ft (100m) of where they were last seen.
He described how, having received the initial report just before 3pm, Tonibeth was not located until 20:49 BST and then Chloe at 21:57 BST.
He added: "The river was in full flow and was a hazardous environment. It was six metres deep in the middle.
"We tried desperately to find the girls."