Tyne and Wear fire crew cuts 'will risk lives'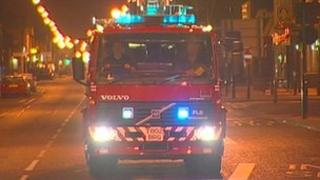 Lives will be put at risk if plans to cut one in five firefighter jobs go ahead, a union has said.
Tyne and Wear Fire and Rescue is planning to axe 131 posts, shut three stations and cut the number of engines from 30 to 24 in a bid to save £8m.
Chief officer Tom Capeling said crews would "try their utmost" to stop lives being put at risk, but said response times would be slower.
The Fire Brigades Union said the proposals were "devastating".
Union secretary Dave Turner said areas would also be left without cover "for extended periods" if plans to shut Gosforth, Wallsend and Sunderland stations are approved.
The service, which will hold a consultation into the plans, needs to reduce its spending because of government cuts over the next three years.
'Greater risk'
Mr Capeling said: "Ultimately there will be an impact - we will be getting to incidents more slowly.
"If someone is in a fire we will try our utmost to get to them as quickly as possible but if six fire engines are removed from an area like Tyne and Wear it will take longer to get there.
"We will get to incidents slower, it will be marginally slower, but when there is a risk to life we will try to be as quick as we are today."
The service is planning to build a new central station to cover Gosforth and Wallsend.
Mr Turner said: "These are the most devastating cuts in the service's history and will mean firefighters and the public will be at far greater risk.
"It also means that areas will be left without cover for extended periods increasing the risk to both the public and firefighters."