Train passengers forcing doors open told 'don't be insane'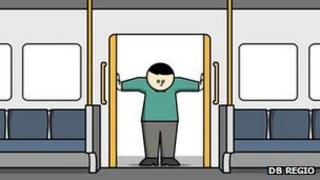 A cartoon passenger is decapitated and viewers are advised "don't be insane, use your brain" in a new train safety campaign.
Tyne and Wear Metro has released the animation along with a CCTV montage of passengers being dragged along by trains after becoming stuck in doors.
Operator DB Regio criticised the behaviour of passengers who prop open doors, saying it was "madness".
It said 80 trains had been delayed since April because of the issue.
Sharon Kelly, director of operations and customer services at DB Regio Tyne and Wear, said: "We introduced platform announcements and put posters up on train doors to remind passengers that they shouldn't obstruct the doors.
"But it doesn't seem to have worked, because people are still doing it.
"It's madness really.
"You wouldn't stick your hand in the door of a bus that was about to leave a bus stop, would you?
"But that's just what people are doing on the Metro."
The videos are part of a safety campaign in response to a report by the Rail Accident Investigation Branch into an incident when a woman was dragged along a platform.
The CCTV footage also shows a woman losing a walking stick after trying to prop open a door and another passenger falling to the ground as she manages to release herself from a train door.
Passengers can be fined up to £1,000 for obstructing a train.