Killer Steven Grieveson 'has abnormality of mind'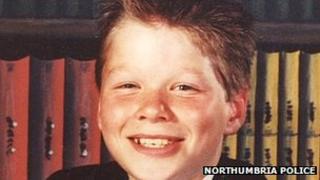 A triple murderer, who confessed to police that he had killed a fourth teenager has an "abnormality of mind", Newcastle Crown Court was told.
Steven Grieveson was convicted of strangling Thomas Kelly, 18, and two 15 year olds, David Hanson and David Grieff, in Sunderland in the 1990s.
He denies murdering Simon Martin, 14, who was found strangled in 1990, claiming the deaths were accidental.
Psychiatrist Nigel Eastman said Grieveson had a "personality disorder".
The forensic psychiatrist told the court he and fellow expert Professor Donald Grubin agree Grieveson has an "abnormality of mind".
However, while Mr Eastman thinks this could have affected his levels of "mental responsibility" at the time of Simon's killing, Prof Grubin disagrees.
Newcastle Crown Court heard all four teenagers were found with ligatures around their necks and their bodies were badly burned.
The trial continues.