Wear-Tyne derby: Could football call time on early kick-offs?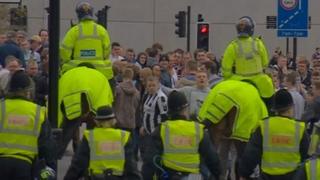 This weekend Sunderland play Newcastle United for the first time since more than 100 fans were arrested after trouble following a game last season. Like that fixture, Sunday's match will kick off earlier than many fans would like, but do early starts still prevent violence?
April's Tyne-Wear derby at St James' Park will be remembered for events both on and off the pitch.
Sunderland won on Tyneside for the first time in almost 13 years and the aftermath of the game is still making its way through the courts.
Several Newcastle fans received prison sentences, including one man who was jailed for a year after he admitted punching a police horse, and two 12-year-old boys are now among the youngest in the country to have football banning orders.
It came as some surprise to fans, then, when Sunday's match between the fierce rivals was originally scheduled for 16:00 GMT by Sky Sports, but no one connected to either club was shocked when the kick-off was brought forward to 13:30 for safety reasons.
Early kick-offs are unpopular with fans attending games and some have questioned whether they still serve their purpose of reducing drinking time.
'Little correlation'
Kevin Miles from the Football Supporters' Federation said he was "yet to be convinced" the measure was still relevant.
"The fact is that once you give agencies like the police additional powers of this kind, they'll be very reluctant to relinquish them," he said.
"From what I can see there appears to be little correlation between the time a game starts and the numbers of arrests made, especially at derby games.
"The last Tyne-Wear derby was an early kick-off, yet the number of arrests was among the highest ever. Added to that was the fact the less than 10% of those arrested had actually attended the game."
Home Office statistics released this month revealed more Newcastle fans had been arrested than any other club during the 2012-13 season, with the figure vastly inflated by the trouble following Sunderland's 3-0 win on Tyneside in April.
The figures showed football arrests had risen by 4% but the number of fans held for alcohol-related issues was down from 800 to 549 year-on-year.
Geoff Pearson from Liverpool University has researched the impact of alcohol restrictions on football crowds and found fans observed in a study would go to "extraordinary lengths" to overcome "practical and legal measures".
He said early kick-offs did reduce the alcohol consumed, although perhaps not as much as police forces would like.
"Fans will start earlier, but if you have a 17:30 kick-off, fans belonging to that drinking sub-culture are going to drink for about five hours before the game, whereas if you had a midday kick-off, they're not going to be drinking for as long.
"They might start at 10:00 maybe, but they're not going to be consuming the same amount.
"What does happen is that over the course of the day an early kick-off means there's going to be more drinking time in total."
Mr Pearson said early kick-offs could lead to volatile situations for "same city derbies" where fans would mix long after the game
'Get tanked up'
Fans on either side of the Wear-Tyne divide point to relaxed licensing laws as an example of why the measure may now have less of an impact than in the past.
Gary Stephens, a former chairman of Sunderland's fan liaison group, believes early kick-offs should be scrapped.
"They absolutely do not work", he said. "As far as drinking goes, you can't stop it. Pubs can open whenever they want, now that we've got 24 hour drinking. But even if they didn't, people can simply go to the supermarket, get tanked up and still cause trouble."
Of its 384 licensed premises, Sunderland Council said 67 were able to serve alcohol before 11:00 BST.
It has rejected one temporary application to serve from 08:00 BST on Sunday after objections from police.
Northumbria Police's operations commander for Sunday's game Ch Supt Steve Neill said "public safety and the welfare of fans" was the "absolute priority".
"We sometimes seek earlier kick-off times for the derby to reduce the length of time people have to consume alcohol and to help prevent the likelihood of crime and disorder," he said.
Mark Jensen, editor of Newcastle fanzine The Mag, said he had not found any football fan that had "anything to say" for early kick-offs.
"It's crazy in this day and age that a crowd of around 50,000 can be inconvenienced just because of the risk a small minority might cause trouble.
"When there's so much money in football and the police have CCTV and all their other resources it does seem mad that you can't have a match after a certain time.
"Police will always play the public order card but after the match at St James' Park in April that seems to have been blown out of the water."
Ch Supt Neill said the police priority was for "supporters to be able to enjoy the game".
He will join fans of both clubs in hoping Sunday's talking points are generated purely on the field.