South Tyneside Hospital children's A&E services restored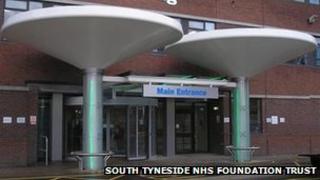 Children's services at South Tyneside Hospital are to be restored after an "unprecedented" increase in staff sickness forced it to close.
Opening hours were restricted in the paediatric accident and emergency department in June.
The hospital said closing the unit overnight ensured remaining staff could care for the majority of children.
A hospital spokesman said a number of staff had now returned and overnight services would be restored on Monday.
The assessment unit was closed between 22:00 and 08:00 BST.
Helen Ray, chief operating officer at South Tyneside NHS Foundation Trust, said: "It was with great reluctance that we took the decision to temporarily restrict opening hours this summer.
"Happily, a number [of staff] have now returned to work and we anticipate we will be back to full strength, enabling us to reinstate the overnight service.
"The closure was entirely in the interests of ensuring the best patient care and, fortunately, only a very small number of children access the overnight service."
Families in the area used emergency departments at Sunderland Royal Hospital, the Queen Elizabeth Hospital in Gateshead or Newcastle's Royal Victoria Infirmary while the South Tyneside unit was closed.