Sunday church parking permit withdrawal reconsidered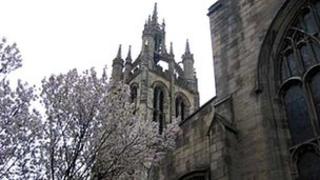 Plans to withdraw free Sunday parking permits from churches in Newcastle city centre are being reviewed.
The plans were part of measures designed to reduce the city council's budget by £100m over three years.
Michael Keller from the Church of St Thomas the Martyr said the small numbers involved suggested the council was just "rearranging deck chairs".
Churches were told the scheme would end in March 2014 but the council said it was negotiating a possible fee instead.
The passes currently allow congregations to park for free in otherwise paid-for parking bays.
Churches feared scrapping the permits might deter worshippers.
A Newcastle City Council spokesman said: "We understand the city centre churches' concerns and we're currently negotiating an extension to their free Sunday permit scheme.
"We may ask for a nominal annual fee per pass, well below the market rate, to cover administration costs and, at the moment, we're deciding what that fee should be."