City of Adelaide clipper: Protest targets Greenwich ceremony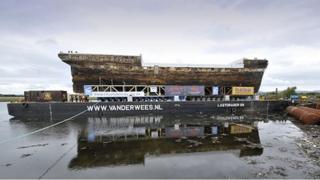 Campaigners have staged a demonstration at a ceremony in London held to rename the world's oldest surviving clipper ship.
The City of Adelaide - also known as The Carrick - was built in Sunderland in 1864 and is to be taken to Australia to become a tourist attraction.
The Duke of Edinburgh officially renamed the vessel at a ceremony beside the Cutty Sark in Greenwich.
A group from Sunderland wants the vessel returned to the River Wear.
The grade A-listed ship, which is five years older than the Cutty Sark, has lain on a slipway in Irvine, Ayrshire, since 1992.
A consortium from Adelaide, South Australia, beat a group of Sunderland enthusiasts in a competition to secure the vessel in 2010.
It is now about to be moved via a quarantine and "preparation stop" in Europe to Australia. It is due to arrive between February and April.
'Clutching at straws'
The ship's rudder, which became detached from the main vessel several years ago, is already on display in Adelaide.
The Sunderland City of Adelaide Recovery Fund (Scarf) wants the vessel to return to its home port to be the centrepiece of a maritime heritage centre.
The group unveiled a banner in London reading "Bring Adelaide home to Sunderland".
After the ceremony, Peter Maddison, from Scarf, said an application had been made to HMRC and the Arts Council in an attempt to stop the ship leaving.
"It's not done and dusted," he said. "We've still got everything to fight for."
However, a spokesman for the Adelaide team said: "Those opposed to the ship leaving the UK are clutching at straws."
In 1893 the vessel became a hospital ship, but in 1924 was converted into a training ship at Irvine, and renamed HMS Carrick.
In 1991 the ship sank at the Princes Dock, Glasgow, and lay on the bottom of the River Clyde for a year before being raised and taken to Irvine.
For years, it lay rotting on a slipway at the Scottish Maritime Museum, with the cost of repairs put in excess of £10m.
The Australian charity, Clipper Ship City of Adelaide Ltd (CSCOAL), took control of the ship last month.