Medomsley Detention Centre: Abuse victims now total 83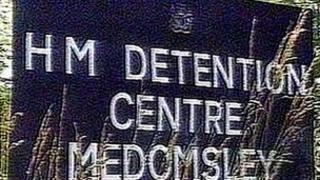 More than 80 people have contacted police to say they were sexually abused at a former County Durham detention centre in the 1970s and early 1980s.
Medomsley juvenile detention centre was the focus of an investigation which saw Neville Husband and Leslie Johnson jailed for abusing inmates.
The case was reopened in August when a former inmate said he was also abused.
Det Supt Paul Goundry said: "We owe it to the former inmates to investigate every lead."
He added: "Experienced detectives will go to see our victims in person, wherever they are, answer any queries they may have and steer them towards the appropriate counselling services if they need them.
"We are also in regular contact with the Crown Prosecution Service who will ultimately advise on whether criminal charges should be brought."
'Secret abuse'
Church minister Husband, who worked at the detention centre as a prison officer, was jailed for 12 years in 2003 for the abuse which is said to have happened between 1974 and 1984.
Johnson, a store man, was sentenced to six years in 2005. Both are now dead.
Durham Police said "almost two dozen" victims were known to police in the original investigation.
Medomsley closed in 1988 after the abuse came to light. It has since reopened as a secure training centre.
In 2003, Newcastle Crown Court heard how Husband, who became a minister in the United Reformed Church after 27 years in the prison service, had used his position of authority to systematically abuse his victims.
The male inmates, who were aged between 16 and 19 at the time, had been picked by Husband to work in the kitchens, where he would sometimes "blatantly" indecently assault them or take them away for abuse in secret.
Many of those sent to Medomsley were first-time offenders often detained for relatively minor offences.