Northumberland free school meal pupil attainment 'unacceptable'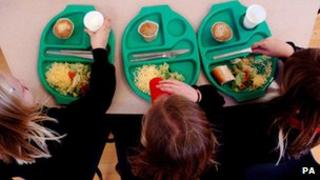 GCSE grades of children on free school meals in Northumberland have been deemed "unacceptable" by inspectors.
Ofsted found the county had a "worryingly disproportionate" number of under-performing secondary schools.
A spokesman for Northumberland County Council said it "understands the challenges" it faces.
Inspectors are now visiting 17 schools to investigate why the free meals scheme is not being effectively used to help disadvantaged children.
Ofsted regional director Nick Hudson said: "While I recognise that primary schools in Northumberland are doing well, I am very concerned that children on free school meals in the county are not getting the education they deserve.
Supporting schools
"The proportion of children on free school meals in the county is relatively low and therefore it is even more of a worry that there is a significant attainment gap for these children compared to their peers within the authority, in the North East region and nationally. This is an unacceptable situation."
Only 26% of children on free school meals in secondary schools were able to achieve five or more A* to C GCSE grades including English and maths, compared with 36% nationally.
However, first and primary schools were found to be doing "very well", with 92% of children going to a good or better school.
A county council spokesman said: "We understand the challenges and we're committed to achieving the best for all our students and supporting our schools to provide a high quality education."
Ofsted said it will pay "particular attention" to the "effectiveness and impact" of the support the schools are receiving from the local authority during the inspections.