Simon Martin's killer Steven Grieveson 'had no mental health issues'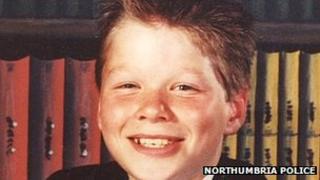 A triple murderer, who confessed to police that he had killed a fourth teenager, showed "no signs" of mental health problems, a court heard.
Steven Grieveson was convicted of strangling Thomas Kelly, 18, and two 15 year olds, David Hanson and David Grieff, in Sunderland in the 1990s.
He denies murdering Simon Martin, 14, who was found strangled. Grieveson claims the deaths were accidental.
Custody records shown at Newcastle Crown Court had no mention of issues.
The jury heard Grieveson claims an abnormality of mind meant he could not exercise self-control.
The court heard all four teenagers were found with ligatures around their necks and their bodies were badly burned.
'Lost myself'
The 42-year-old has convictions going back to the age of 11, William Lowe QC, prosecuting, told the court.
At the time of Simon's death, Grieveson had 12 criminal convictions, the jury heard, and a further 13 by the time he was found guilty of murdering the three older teens.
In 2012, the fairground worker, formerly of Roker Terrace, Sunderland, told police he took Simon to derelict Gilside House, had sex with him on a mattress, and afterwards attacked him.
"I started getting paranoid, I didn't want anyone to know," Grieveson told detectives.
"I lost myself for a couple of seconds. The next thing I knew, he was lying on the bed. He was not moving."
The initial pathologist's report found that Simon was killed by a series of blows to the head.
A later investigation found the teenager had also been strangled.
'Forgive me'
Three letters Grieveson wrote to the families of his later victims were read to the jury.
In them, he begged for forgiveness and offered to kill himself or be killed if it would "make a difference" or would "help anything".
He wrote: "I took a piece of your heart away from you that night. I'm sorry. Why, I don't know. Forgive me.
"So sorry for destroying your family. You hate me, detest me. I'm horrible, I know."
He added that he was "not all bad".
The letters were intercepted by staff at Frankland Prison in Durham.
The trial has been adjourned until Thursday.