Simon Martin death: Triple killer Steven Grieveson denies fourth murder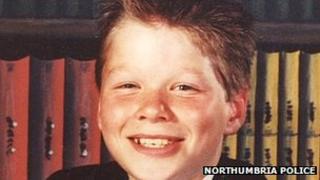 A triple murderer confessed to police how he had killed a fourth teenager but was now "haunted" by his crime, a court heard.
Steven Grieveson, 42, was convicted of strangling Thomas Kelly, 18, and two 15 year olds, David Hanson and David Grieff, in Sunderland in the 1990s.
He denies murdering Simon Martin, 14, who was found strangled. Mr Grieveson claims all of the deaths were accidental.
The trial is expect to last two weeks.
Newcastle Crown Court heard all four teenagers were found with ligatures around their necks and their bodies were badly burned.
Prosecutor William Lowe, QC, said the defendant claimed he was involved in "homosexual activity" with all the teenagers and was threatening them because he did not want them to reveal his sexuality.
'Driven me crazy'
Mr Lowe said Mr Grieveson accepted that he did kill Simon Martin but claims the death was accidental.
Mr Grieveson told police he had gone to derelict Gilside House, Roker, with Simon after playing football in May 1990.
Then aged 19, Mr Grieveson said he and the 14-year-old "performed a sex act".
"After I was finished I got scared, I started shouting at him not to tell anyone," the court heard Mr Grieveson said in a police interview.
"I just flipped for a minute and I started strangling him. I didn't let go and the next thing, he was on the bed.
"I think there was a rock or something and I smashed his head in."
Mr Grieveson, formerly of Roker Avenue, Sunderland, later told police he had pleaded with his victim not to tell anyone about their sexual contact.
"He was saying he wouldn't tell but for some reason I didn't believe him," he told officers during an interview in January 2012.
Mr Grieveson told police why he was confessing to killing the teenager, the jury heard.
He said: "I needed to tell police, it has haunted us for 20 years.
"It has driven me crazy and I need to give the family peace of mind, myself as well."
The trial continues.