West Auckland AFC 'first World Cup' statue unveiled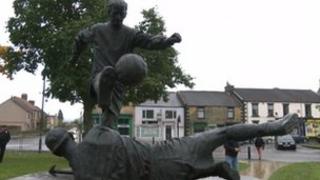 A statue to celebrate a County Durham football club winning the Sir Thomas Lipton Trophy has been unveiled.
West Auckland Town AFC won the trophy, later dubbed "the first World Cup", in Turin in 1909 and then successfully defended the title two years later.
The Friends of West Auckland raised more than £200,000 to fund the statue, which stands on the town's green.
Actor Tim Healy, who unveiled the statue, said it was a "brilliant" story of a group who won "against all odds".
West Auckland councillor Rob Yorke and the Friends of West Auckland came up with the statue idea in 2008.
The group raised more than £200,000, with donations received from the Arts Council, West Auckland Parish Council and private companies.
The bronze statue, which was designed by London-based artist Nigel Boonham, is about 8ft (2.5m) high and stands on a 12ft (4m) plinth.