Blyth legacy-funded lifeboat station officially opens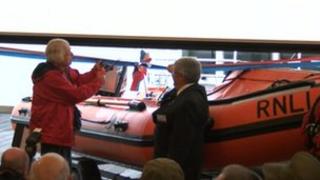 A purpose-built lifeboat station in Northumberland has been officially opened, and its new vessel named.
The £700,000 station in Blyth replaces a 1920s facility, with most of the cash coming from a legacy from a West Yorkshire woman who died in 2003.
Its new lifeboat was funded by a donation from an Alnwick woman, who "christened" it the Alan and Amy, in honour of her parents.
The ceremony also featured a service of dedication led by a clergyman.
Daphne Sharpe, of Ilkley, was a long-time supporter of the RNLI and specified that money left to the charity in her will should be used to support the lifeboat service on the North East coast.
'Tremendous day'
The lifeboat was funded by Dr Patricia Kind, who spent childhood holidays on the Norfolk coast, and remembered helping haul the Sheringham lifeboat up the beach after a rescue.
She described taking part in the ceremony as "an honour".
She said: "I'm full of admiration for the RNLI's volunteer crews and the work of the charity, and am delighted that a vessel bearing my parents' names is helping to save lives at sea off the Northumberland coast."
John Scott, Blyth RNLI lifeboat operations manager, said it was a "tremendous" day.
He said: "Without donations and the support of people like Mrs Sharpe and Dr Kind, RNLI crews just wouldn't be able to carry on our lifesaving service."