Infrared cameras tested as early warning for Northumberland wildfires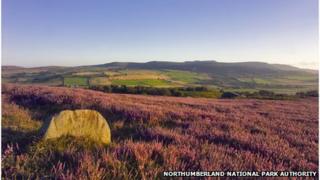 Heat seeking cameras could be used as an early warning system for wildfires in rural Northumberland.
A pilot project will see an infrared camera, capable of detecting a fire up to five miles away, placed in the Simonside Hills near Rothbury, which have seen several recent fires.
If a fire is detected a second high definition video camera can be trained on the scene to determine its severity.
If successful, the system could be used in other high-risk areas.
Both cameras will be mounted on an existing mast and will be capable of covering an area of up to 50,000 acres.
Any detection of heat triggers an alarm and an operator from a remote site can then train both cameras on the area to determine if the emergency services need to be called in.
A Northumberland National Park spokeswoman said: "The detection system will be located in a particularly harsh outdoor environment and is designed to withstand extreme weather conditions.
"The results of the tests will be shared with other agencies and if successful, we could see this used elsewhere in the national park as well as other parts of the UK and abroad."