Tyne and Wear Metro cleaners settle 'low pay' dispute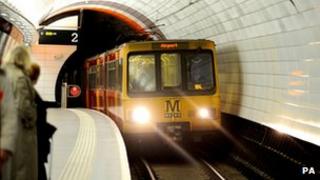 A long-running dispute which has seen 19 days of strike action by cleaners working on the Tyne and Wear Metro has been resolved.
Over the past 18 months, the staff, who are employed by Churchill, have fought bosses over their "low pay".
The cleaners have now been offered a 5% rise over the next four years and an extra day's leave from January 2014.
The general secretary of the Rail, Maritime and Transport (RMT) union, Bob Crow, said it was a "landmark victory".
Mr Crow said: "This pay deal is a breakthrough that will send out the clearest possible signal to low paid workers throughout the land that if they fight they can win.
"RMT members have shown guts and determination through a long and hard campaign with well over a year of rock-solid strike action in the fight for workplace and pay justice.
"They are an example to us all."
Services on the network were unaffected by the strikes.
A spokesman for Metro operator DB Regio said: "We are very pleased that the dispute between Churchill and its employees has been resolved."