Stadium of Light's neighbours consulted over match-days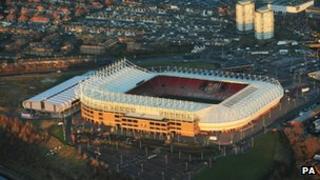 People living near Sunderland football club's ground are to be consulted on match-day and event parking.
Sunderland City Council said residents had been concerned parking restrictions were out of date and inappropriate.
A spokesman said regulations around the Stadium of Light caused "unnecessary inconvenience for residents unable to park outside their own houses".
Emergency services, transport providers and businesses will also be sent letters and asked for their views.
Proposals include removing single yellow lines and signs and introducing a parking permit system during events.
It is suggested households or businesses would have one free parking permit but pay a "small annual charge" for a second.
Council leader Paul Watson said: "We will only go ahead with these proposals, in full, if more than half of the residents let us know through this consultation that they support them.
"So I would encourage everyone to have their say and let us know what they think."