Morpeth's controversial traffic lights to be removed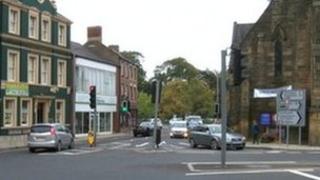 Controversial traffic lights installed in a Northumberland town are to be removed following concerns raised by local residents.
The lights were installed at the junction of Telford Bridge in Morpeth to cope with expected additional traffic when a new supermarket opened.
Hundreds protested against the move and said the lights made traffic worse.
Now, 18 months later, Northumberland County Council is replacing them with a temporary mini-roundabout.
The campaign group, Lights Out, handed in a signed petition with about 2,000 signatures to County Hall following the installation of the traffic controls.
Lights Out campaigner and Morpeth Town councillor David Clarke, said: "It [the campaign] just gathered up a momentum that we could never have imagined and here we are today, victorious and it feels really good."
Immediate impact
The move follows the results of an independent review on traffic management in the town, which recommended removing the traffic lights and replacing them with a mini-roundabout on a six-month trial basis.
The council said work to remove the lights will be carried out on 12 October, the same time as a planned closure of Telford Bridge.
The cost of removing the lights will be approximately £18,000, the council said.
Leader of Northumberland County Council, Grant Davey, said: "Technical information from the developers of the Morrisons store clearly suggested that traffic signals would be the best solution to deal with increased traffic.
"However, we are responding to the concerns of local residents by trialling a mini-roundabout and also looking for a longer term solution."
The council said once the roundabout is installed, it will be monitored to assess the "immediate impact" to help decide on a permanent solution.