Durham's Lumiere light festival sun and elephant highlights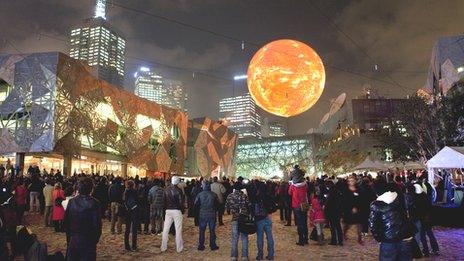 An interactive artwork of the sun and a huge, 3D elephant will be just two of the highlights of a light festival in Durham city, organisers said.
The Lumiere festival of light attracted 150,000 visitors the last time it was held in 2011.
It will be returning for a third time from 14 to 17 November.
The artworks will include an interactive model of the sun 100 million times smaller than the real thing, by artist Rafael Lozano Hemmer.
The festival will also include Elephantastic, a 3D elephant by French design studio Top'la.
A spokesman for festival organiser, the Artichoke project, said: "Lumiere will weave a nocturnal art trail through the city, engaging with its architecture.
"It invites the audience to explore urban landscapes, and challenging how people think about and use public space.
"From the most simple intervention to the latest technology, the festival celebrates the myriad ways that international, UK and local artists and designers use light to make art."
The festival was commissioned by Durham County Council and sponsored by Arts Council England.
In 2011, the event turned buildings and bridges in Durham into illuminated works of art.
Simon Henig, leader of Durham County Council, said: "Lumiere Durham 2013 promises to both entertain and amaze with a mix of technology and spectacle.
"The range of light installations and the changes made to the way the event will run look set to deliver a truly world class festival once more."
Related Internet Links
The BBC is not responsible for the content of external sites.